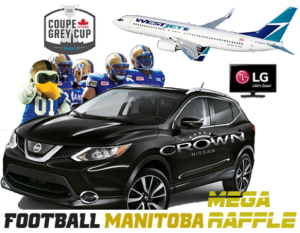 Each year Football Manitoba provides our members and outside non-profit organizations the opportunity to participate in our  MEGA RAFFLE FUNDRAISER.  Eligible organizations receive a majority share of any profits of tickets sales through their organization.
Participating clubs and non-profits have received over $250,000 over the past three years as their share of the MEGA RAFFLE sales, to help support their programs to continue providing quality football programming to their members!
Past MEGA RAFFLE prizes have included a variety of vehicles, WestJet travel anywhere in the world, Grey Cup packages with travel and accommodation, not to mention some "massive" LED Smart Television, and many more prizes.
The 2022 MEGA RAFFLE planning is underway is expected to launch early April '22.
Please come back soon for further details on how to participate or purchase your tickets.